Submit online
Subscribe now
Most viewed articles
Join as reviewer
Track your Manuscript
Plagiarism Alert

Current Issue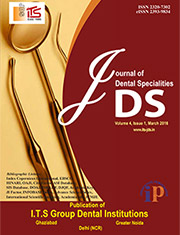 Editor-in-Chief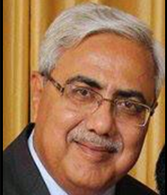 Welcome Message
I extend a warm welcome to the dental and biomaterial fraternity towards the readership and active contribution to the Journal of Dental Specialties. This is a peer reviewed multispecialty dental journal of ITS Group Dental Institutions published biannually.
I am pleased that the Journal of Dental Specialties is now launching its website. This would facilitate the ease of submission of manuscripts.
The prime objective of this Journal is to promote scientific research of high quality, innovative case reports & series, and meta-analysis of upcoming biomaterials and treatment modalities in the dental world. We have also added a special section of Clinical Tip which aims to provide clinicians with extremely important tips to approach clinical cases with a scientific evidence based approach.
I encourage the Dental fraternity to actively contribute to the success of this journal. The authors should submit manuscripts which deal with contemporary issues and can provide newer vistas of research and innovations.
I am extremely grateful to the Authors for considering this Journal for their submissions. I acknowledge the role of my reviewers for meticulously screening the scientific content being submitted to the Journal. I am grateful to the advisory board of the Journal for working hard towards taking this Journal to greater heights.
Our Editorial team is dedicated for the exchange of scientific research of high quality and clinical innovations in different spheres of dentistry, thus equipping the readers towards a more scientific approach in their clinical practice.